There are many reasons to prune:
Safety. In certain cases your trees may become so big and unwieldy that they threaten the safety of your home and family. Trees must be trimmed back to prevent future catastrophe by improving tree structure so that branch attachments grow strong and can withstand high winds and major storms.
Tree Health. Removing dead wood allows damaged tree branches to close over and block out decay. Crown-thinning your tree allows light and air penetration to the inner parts of the tree, allowing the interior foliage to grow and aid in photosynthesis.
Aesthetics. Our goal is to enhance the beauty of your trees by pruning them in a way that looks natural.
Living Tree Service, Inc. combines years of experience, artistic expression and research-based data in making pruning decisions. We abide by the ANSI A300 publication, Standard Practices for Pruning. ANSI A300 is the industry standard for proper tree care.
Practices to avoid
We strongly urge all of our customers to avoid pruning practices that are harmful to trees, including lion's tailing and topping. If you have had either of these harmful procedures done to your trees, please contact us so that we can get you set up with a restoration plan.
Before and after pruning of a mesquite tree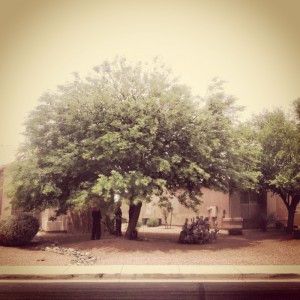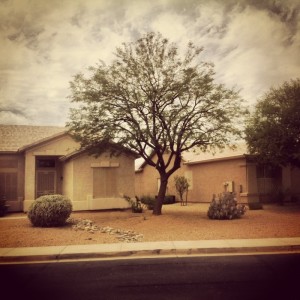 Caring for frost-damaged trees
Although somewhat rare, we occasionally experience some very cold temperatures in Phoenix that can cause a lot of damage to frost-sensitive trees, such as ficus. We recommend pruning out all dead limbs and foliage before the new growth occurs in late February to April.